Airlink MP70 High Performance LTE Vehicle Router
High-performance, LTE-Advanced vehicle router with GPS+CAN for mission-critical applications.
Key Features:
LTE-A up to 300/50Mps, LTE-A PRO version 600/150Mbps

Dual SIM automatic network failover

Opt. Dual band 2.4/5GHz 802.11ac Wifi AP/Client/WAN mode

GNSS - GPS, GLONASS, Galileo, Beidou

4 x GbE with WAN failover

OBD II/ J1939/ J1708 interface over serial

-30 ~ +70°C operation

MIL 810-G, IP64 rated

7~36VDC input

Remote, secure network management - Cloud – ALMS, Hosted – AMM
Enquire about this product
Offering high power, long-range Gigabit Wi-Fi and Gigabit Ethernet, and up to 600 Mbps downlink and 150 Mbps speeds over LTE-Advanced Pro, the AirLink MP70 unites the fleet with the enterprise network and enables multiple field applications to work simultaneously, further and faster from the vehicle than ever before.
Offers high-performance vehicle area network (VAN)
Provides connected vehicle awareness
Purpose-built for vehicles
Provides secure intelligent communications
Network management in the cloud or in the enterprise data centre
Includes the first year of network management and support with AirLink Complete
MP70 Benefits
High-Performance Vehicle Area Network (VAN)
With dual-band Gigabit Wi-Fi and Gigabit Ethernet, the AirLink MP70 enables a complete portfolio of broadband mission-critical applications to work simultaneously, further and faster from the vehicle than ever before.
Built for first responders and field personnel, the MP70 offers up to 600 Mbps downlink speeds and upload speeds of 150 Mbps over LTE-Advanced with fallback to 3G networks, and up to 1.3 Gbps over 802.11ac Wi-Fi (with 3x3 MIMO) and Gigabit 4-port Ethernet. The AirLink MP70 can host up to 128 simultaneous Wi-Fi clients, and concurrently connect multiple mission-critical applications in and around the vehicle including laptops, DVRs and tablets, in addition to providing live video streaming, and rapid and secure access to remote databases, such as record management systems.
Connected Vehicle Awareness
The AirLink MP70 increases efficiency, streamlines operations and reduces costs by supporting advanced remote visibility and instant insight into the vehicle area network (VAN), field applications and assets, and the workforce.
Utilizing next-generation GNSS location technology that supports 48 satellites from 4 different satellite constellations (GPS, GLONASS, Galileo, Beidou) with inertial navigation (dead reckoning). The MP70 provides fast, reliable and precise vehicle location, even in the most challenging environments, including urban canyons and tunnels or covered structures.
Purpose Built for Vehicles
The MP70 provides superior reliability and continuous operation in harsh environments. It will survive extreme transient surges, and maintain continuous power during 5V brownouts and spikes from -600 VDC to 200 VDC.
Secure, Intelligent Communications
Offering up to 5 concurrent VPN sessions, the AirLink MP70 enables secure communications to multiple back-end systems and provides remote authentication management to allow the implementation of enterprise-grade systems to control access to devices in the field.
This product is listed in
5G/LTE Gateways
,
Industrial Automation
,
Mining
,
Transport
B1, B2, B3, B4, B5, B7, B8, B9, B12, B13, B18, B19, B20, B26, B28, B29, B30, B32, B41, B42, B43, B46, B48, B66
B1, B2, B4, B5, B6, B8, B9, B19
4 Gigabit RJ-45 Ethernet ports

RS-232 serial port (DB-9)
USB 2.0 Micro-B Connector
3 SMA antenna connectors (cellular, diversity, GNSS)
Active GNSS antenna support
Remote Authentication (LDAP, RADIUS, TACACS+) DMZ

Inbound and Outbound Port filtering
Inbound and Outbound Trusted IP
MAC Address Filtering
PCI compatible
Secure Firmware Update
FIPS 140-2
SATELLITE NAVIGATION (GNSS)
Dedicated GNSS Receiver supporting GPS, GLONASS, BeiDou, Galileo

Tracking Sensitivity: -162 dBm
Reports: NMEA 0183 V3.0, TAIP, RAP, XORA
Multiple Redundant Servers
Reliable Store and Forward
Inertial Navigation Sensors (Accelerometer and Gyro)
Dual Band 2.4/5GHz Wi-Fi

802.11 b/g/n/ac with support for 128 clients
WPA2 Enterprise
High output power
Simultaneous AP/Client Mode
WiFi as WAN Mode (Multiple SSIDs, Captive Portal)
DHCP Server

IP Passthrough
VLAN
Host Interface Watchdog
PPPoE
-30°C to +70°C / -22°F to +158°F

-40°C to +85°C / -40°F to +185°F

Military Spec MIL-STD-810G conformance to shock, vibration, thermal shock, and humidity
IP64-rated ingress protection
Low voltage disconnect to prevent battery drain
Built-in protection against voltage transients including 5 VDC engine cranking and +200 VDC load dump
Ignition Sense with time delay shutdown
Configurable I/O (5 pins total)
5 Digital Inputs: ON Voltage: 2.7 to 36 VDC
1 Digital Open Collector Output > sinking 500 mA
3 Analog Inputs: 0.5-36 VDC
Configurable Pull-ups for dry contact input
TCP/UDP PAD Mode

Modbus (ASCII, RTU, Variable)
PPP
DNP3 Interoperability
Network Address Translation (NAT) Reliable Static Route

Port Forwarding Dynamic DNS
Policy Routing Verizon PNTM
NEMO/DMNR IPV6 Gateway
VRRP
IPsec, GRE, and OpenVPN Client

Up to 5 concurrent tunnels
Split Tunnel
Dead Peer Detection (DPD)
ROUTER MANAGEMENT INTERFACES
Local web user interface

AT Command Line Interface (Telnet/SSH/Serial)
SNMP
SMS Commands
ALEOS Application Framework (AAF)
Custom event triggers and reports

Configurable interface, no programming
Event Types: Digital Input, Network Parameters, Data Usage, Timer, Power, Device Temperature and Voltage
Report Types: RAP, SMS, Email, SNMP Trap, TCP (Binary, XML, CSV)
Event Actions: Drive Relay Output
IECEE Certification Bodies Scheme (CB Scheme), UL60950

E-Mark (UN ECE Regulation 10.04), ISO7637-2, SAE J1455 (Shock, Vibration, Electrical)
1-year standard warranty with up to 5 years extended warranty with current AirLink Complete subscription. Unrestricted critical firmware updates.
MP70, DC Power Cable and Quick Start Guide

Other Accessories (Sold Separately)

AC Adapter (2000579)
I/O Cable (6001004)
OBD-II Y Cable (6001204)
J1939 Y Cable (6001192)
6-in-1 Shark Fin (6001197)
6-in-1 Dome Antenna (6001121)
190mm x 45mm x 105mm (112mm including connectors)
7.5in x 1.75 in x 4.1 in (4.4 in including connectors)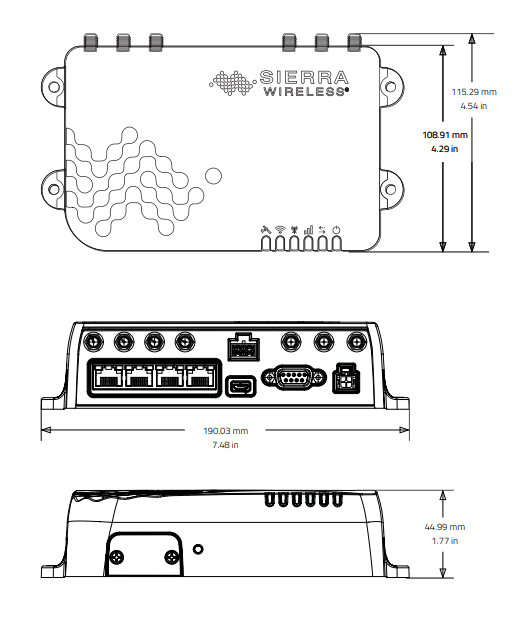 *For carrier specific band support please refer to the hardware user guide.